NPK Compound Fertilizer 20-10-10
Compound NPK fertilizer 20-10-10 is a type of fertilizer containing three nutrient of nitrogen, phosphate,and potassium.The main raw material have ammonium sulphate, urea,potassium sulfate, potassium chloride,potassium nitrate,Mono Ammonium Phosphate and so on.Currently our production technology includes:spray granulation,steam granulation,extrusion granulation.
NPK Compound fertilizer 20-10-10 can supply three main nutrients and trace elements,its nutrient release uniformly,its efficiency is stable and long and has less disadvantage on the soil. In general the appearance is granule with low hygroscopicity and not easy to agglomerate. It`s easy to store and transport so you can save costs.
NPK Compound Fertilizer

Appearance

Granule

Item

Standard

Result

Nitrogen Content

20%±1.5

20.12%

Phosphorus Content

10%±1.5

10.10%

Potassium Content

10%±1.5

10.08%

Total Content(N+P2O5+K2O)

40% Min

40.30%

Moisture

1.0% Max

0.81%
Customized fertilizers can be provided.Formula and color and packing can be customized.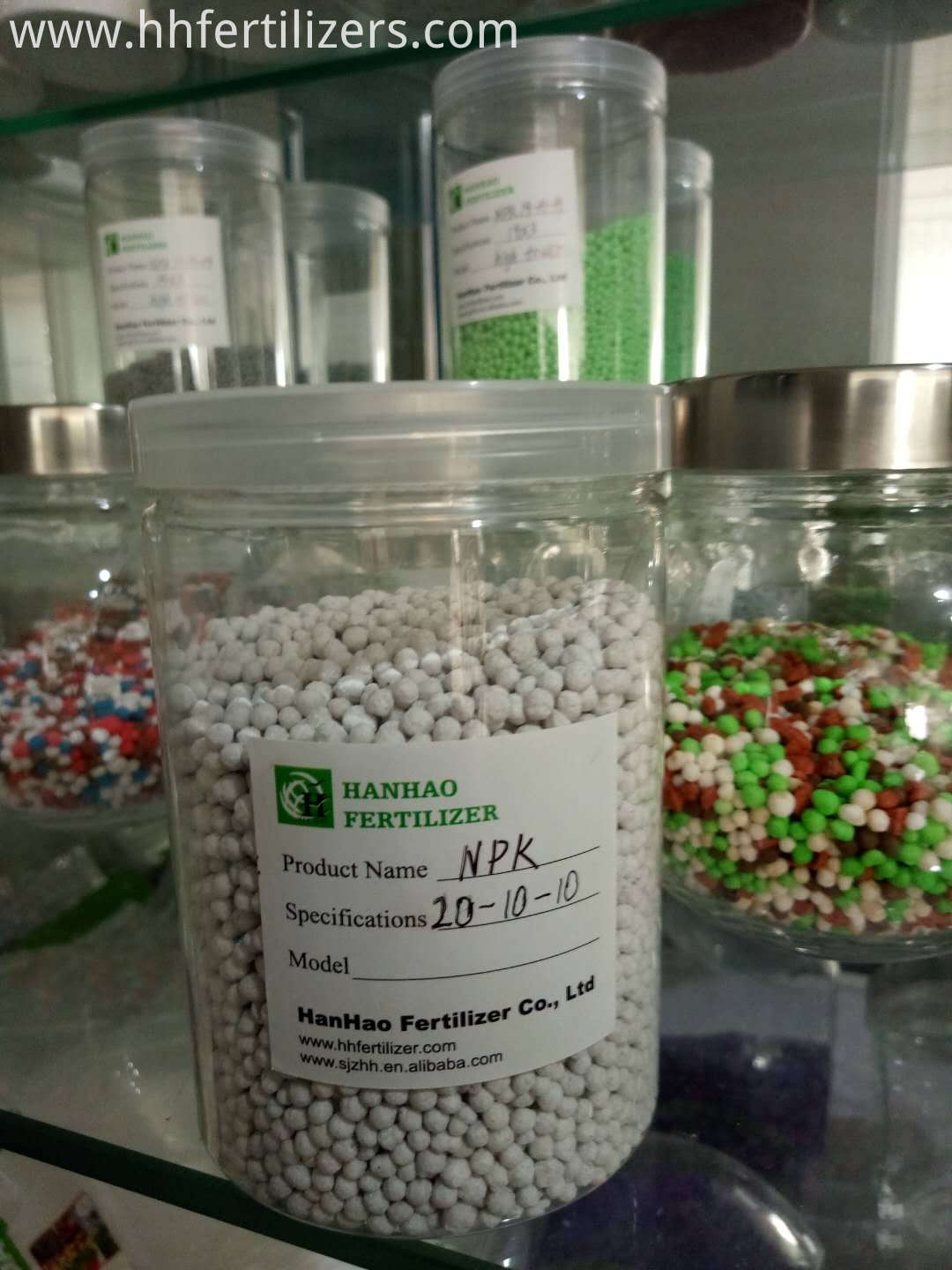 The total amount of nutrients in the compound fertilizer is generally high, and there are many kinds of nutrient elements. At the same time, the compound fertilizer can supply more than two kinds of main nutrient elements at the same time.
Compound fertilizer is usually made into pellets, which has little hygroscopicity and is not easy to caking. It is easy for storage and application, especially for mechanized fertilization.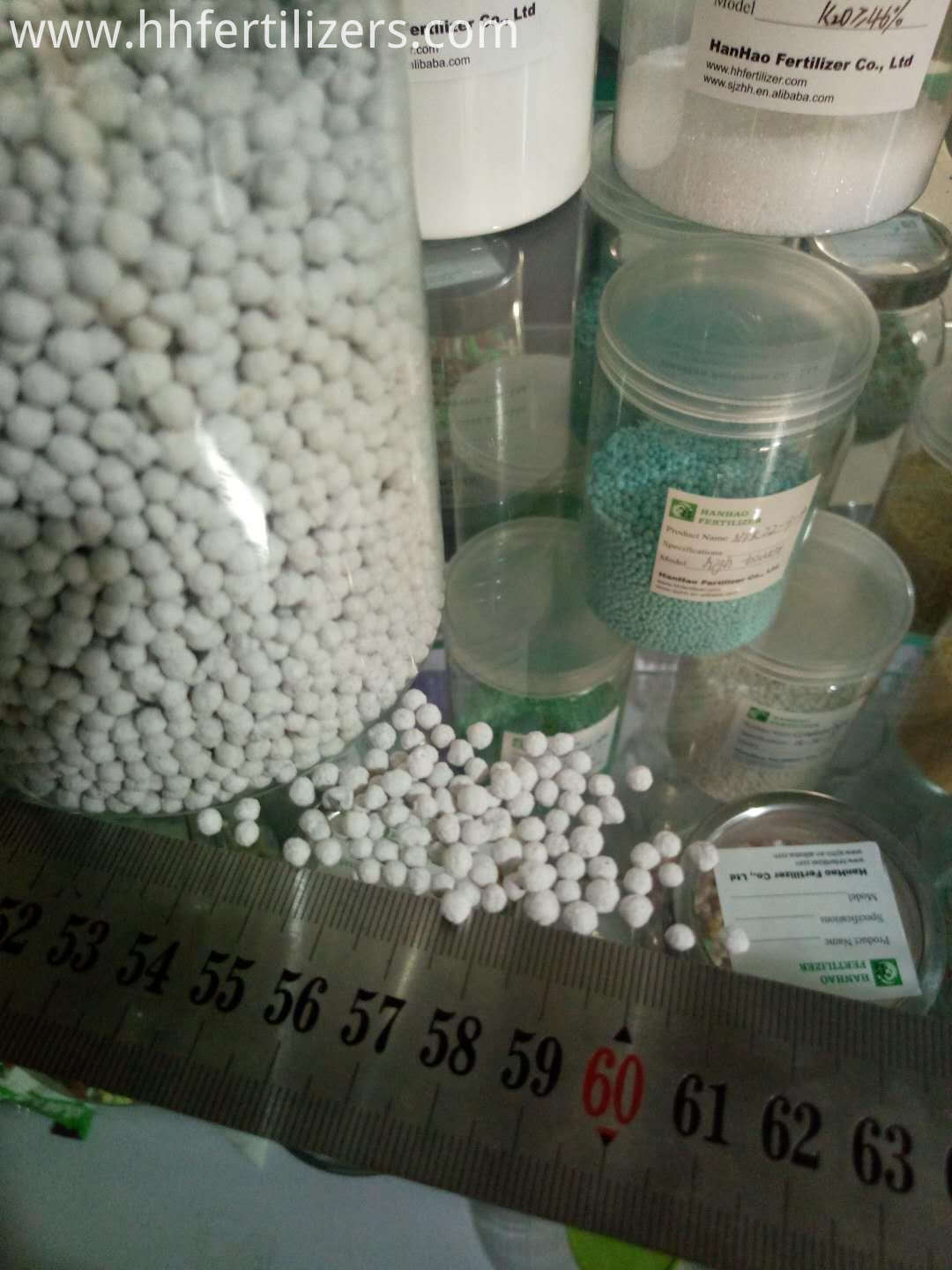 The fertilizer effect of compound fertilizer is long and the base fertilizer should be made. A large number of experiments show that both the two yuan and the three yuan combination are all good. This is because compound fertilizers contain various nutrients such as nitrogen, phosphorus, potassium and so on. The early stage of crops is especially sensitive to phosphorus and potassium, requiring phosphorus and potassium fertilizers to be used as early base fertilizers. In the process of production, the controlled release compound fertilizer adopted the technology of coating, granulation and so on. The fertilizer efficiency is slow and stable, the decomposition of the fertilizer is slower than that of the single chemical fertilizer, the nutrient leaching is less and the utilization rate is high, so it is suitable for the base fertilizer. The average amount is 30 to 40 kilograms per mu. Compound fertilizer should not be used for fertilizer at seedling stage and middle and late stage, so as to prevent greedy and prolonged growth.
The decomposition of compound fertilizer is slow, and the crops with compound fertilizer used as bottom fertilizer when sowing, should supplement quick Nitrogen Fertilizer in time to meet the need of crop nutrition according to the rules of fertilizer requirement in different crops.
The concentration of compound fertilizer is quite different, so we should pay attention to choosing suitable concentration. Most of the compound fertilizers are allocated according to the average nutrient content of a certain type of soil and the proportion of fertilizer needed for large crops. The market has high, medium and low concentrations of compound fertilizer, generally low concentration of total nutrients between 25% to 30%, the concentration of 30% to 40%, high concentration of more than 40%. It is necessary to choose economical and efficient compound fertilizers for different regions, soil and crops. Generally, high concentration compound fertilizers are used in cash crops, with high quality, few residue and high utilization rate.
The higher concentration of compound fertilizer, the direct contact between seed and fertilizer will affect seedling emergence, even burn and rot. When sowing, the seed should be 5 to 10 centimeters apart from the compound fertilizer of the hole application and the strip application.
The proportioning of compound fertilizer is different from that of raw materials. Different brands and different concentrations of compound fertilizer use different raw materials. Production should be selected according to soil types and crop types. Compound fertilizer containing nitrate can not be used in saline alkali land with compound fertilizer containing ammonium ion in leaf vegetables and paddy fields, and the compound fertilizer containing potassium chloride or chloride ion should not be used in the chlorination or saline alkali soil, and the compound fertilizer containing potassium sulphate should not be applied in the paddy field and the acid soil. Otherwise, it will reduce the efficiency and even poison the crops.
we offer Compound NPK Fertilizer, Potash Fertilizer, water soluble fertilizer,Humic acid fertilizer, Organic Fertilizers, NPK High Tower, High Nitrogen Fertilizer and so on.
Looking for ideal NPK Complex Fertilizer 20-10-10 Manufacturer & supplier ? We have a wide selection at great prices to help you get creative. All the Compound NPK Fertilizer 15-5-25 are quality guaranteed. We are China Origin Factory of Complex NPK Fertilizer 15-15-15. If you have any question, please feel free to contact us.
Product Categories : NPK Compound Fertilizer > NPK Tumbling Granulation